About Lonseal Flooring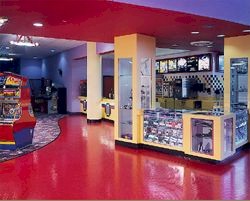 Lonseal makes unique flooring for unique projects. All Lonseal floors feature the same super-strong PVC construction, the same exclusive laminating process and the same superior quality of manufacturing. But that's where the similarities end.
Lonseal, winners of multiple design awards, offers over 140 different styles and colors of resilient sheet vinyl flooring. Lonseal makes a style and color to fit every different kind of interior. Lonseal patterns are highly practical and aesthetically pleasing. Lonseal's flooring has been successfully installed in countless interiors around the world for over 25 years.
Committed to ongoing research and development, Lonseal continually introduces innovative new products. Lonseal's extensive variety of resilient sheet vinyl flooring is the result of decades of scientific research and technological enhancement. Our corporate commitment to research and development has kept the company at the forefront of the sheet vinyl flooring industry for the past two decades. All of Lonseal's styles are manufactured with an exclusive laminating process that permanently fuses three or four layers together. The top layer made of PVC for an extraordinary tough surface enables superior embossing and coloration.The middle layer provides crucial elongation under foot. The bottom layer, composed of strong linen or synthetic cloth provides stability and bonding strength.
Independently conducted abrasion tests [ASTM D-1242, Method 'A'] with loose abrasives confirms that Lonseal flooring wears three times slower than the best-selling homogeneous resilient flooring. Lonseal's vinyl wear layer is not compromised by filler components. The result is superior durability and styling.
All Lonseal floors exceed ADA standards for slip-resistance on a level surface. Lonseal flooring meets the Class 1 fire retardant requirements on the Radiant Panel Test.
All of our products have been awarded in design development and production with ISO9001, the International Quality Assurance Standard.
Lonseal is definitely the highest quality resilient vinyl flooring on the market today.
---
---